Description
Pulsar's Talion XQ35 Pro is an exciting thermal addition to Pulsar's extensive catalogue! With a 384×288 microbolometer sensor resolution and an improved <25mK NETD sensor, this newest offering from Pulsar can detect thermal signatures with finer detail than ever before. With a detection range of up to 1475 yards and a variable magnification of 2.5-10x, the Talion is fully capable of locating heat signatures even in total darkness. The Talion features built-in photo and videorecording and a multi-point prism mount to aid in exact positioning on the rifle.
The Talion has Wi-Fi integration and is supported b the Stream Vision 2 application, ensuring users can capture and preserve all their shooting memories. In a strong, but lightweight, magnesium alloy housing, the Talion has an IPX7 waterproof rating and can withstand calibers up to 12 gauge, 9.3×64 and .375 H&H.
The Talion XQ35 Pro is an exciting, powerful thermal riflescope from Pulsar that maintains an extremely high image quality in severe weather conditions, and it functions for up to 9 hours on a single battery charge. The Talion also boasts a selection of ten reticle shapes in nine color modes, precision aiming with Picture-in-Picture mode and a large selection of different color palettes.
Talion XQ35 Pro Features:
384×288 pix. @ 17 µm (NETD <25 mK)
2.5x-10x magnification
1475 yard detection range
Photo and video recording
Wi-Fi connectivity and Stream Vision 2 app supported
Waterproof, IPX7 rated housing
9 hours of battery life on a single charge
Ten reticles in nine colors
Picture-in-Picture mode
Multiple color palettes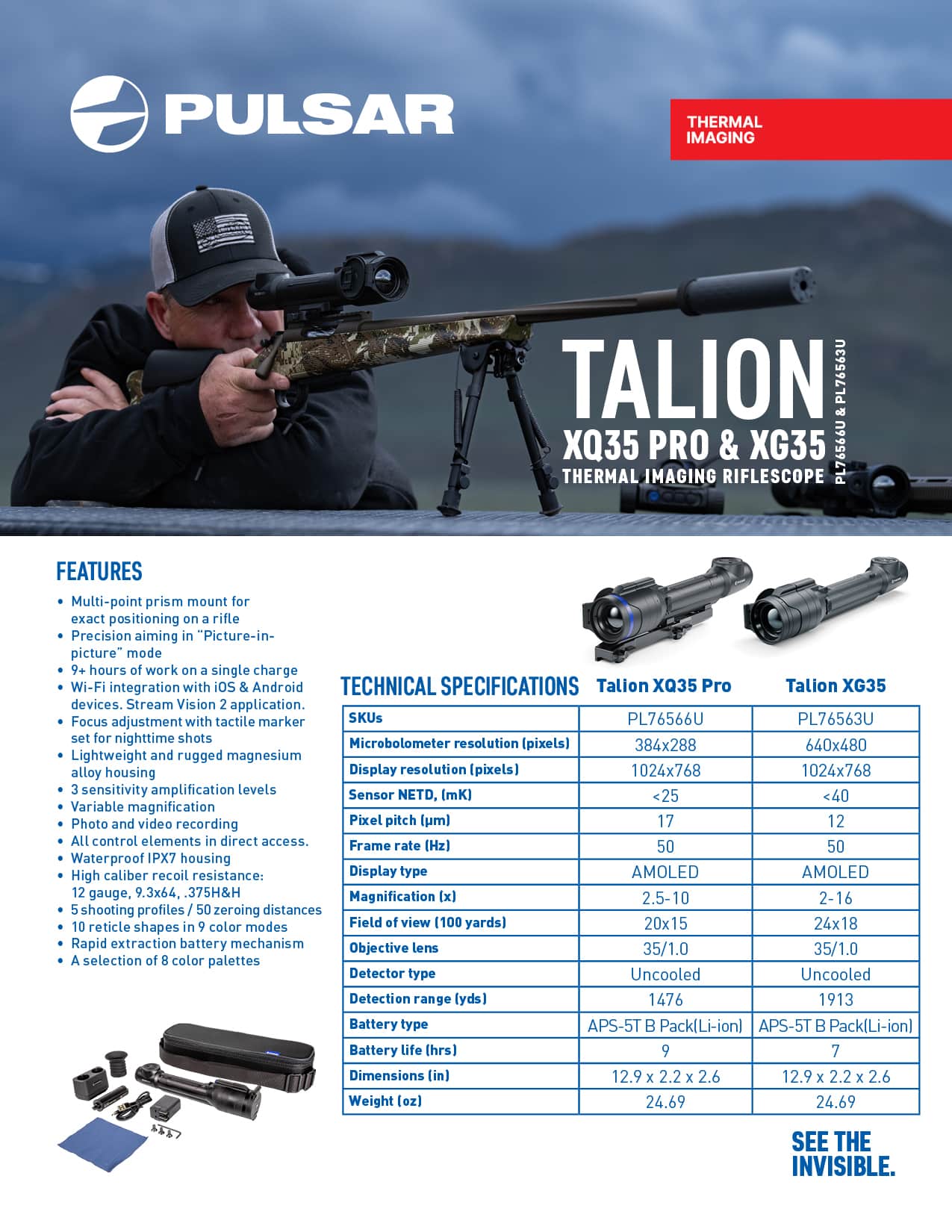 Export of night vision/thermal equipment and optical sighting equipment is controlled by the U.S. Department of State Office of Defense Trade Controls, in accordance with International Traffic in Arms (ITAR), Title 22, Code of Federal Regulations Part 120-130 and/or the Export Administration Regulations (EAR) U.S. Department of Commerce. Please see below for more information.
ITAR Agreement and Legal INFO